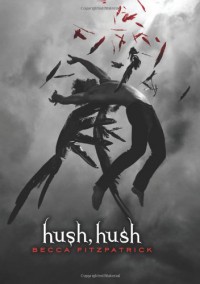 When I sat down to write my review for B4R I was at a standstill. I pondered what to write that has not already been said. I had no intention on reiterating the same points made time and time again. Then it hit me…
I was reading aloud with my eleven-year-old daughter when she reminded me of Patch's description in the prologue and Nora's throughout the book.
**Patch's Description** "At first glance what appeared to be a large angel topping a nearby monument rose to full height. Neither stone nor marble, the boy had arms and legs. His torso was naked, his feet were bare, and peasant trousers hung low on his waist. He hopped down from the monument, the ends of his black hair dripping rain. It slid down his face, which was dark as a Spaniard's."
**Nora's Description** "I'm a smoky-eyed brunette with volumes of curly hair that holds its own against even the best flatiron. And I'm all legs, like a bar stool." In addition to, "Patch smiled. "You come by your red hair naturally?" I stared at him. "I don't have red hair." "I hate to break it to you, but it's red. I could light it on fire and it wouldn't turn any redder." "It's brown." So maybe I had the teeniest, tiniest, most infinitesimal amount of auburn in my hair. I was still a brunette.
Armed with the descriptions it leads me to make the fair assumption that the leading male is a dark-skinned man and the leading female is a fair-skinned woman. However, Becca Fitzpatrick does a wonderful job at deflecting the fact that the leads are an interracial relationship and focus on the attributes that they both bring to the table. I enjoyed watching my daughter sigh over the budding rapport between Patch and Nora. BF, did an excellent job at tapping into the mind-set of today's jaded teens. When BF writes Patch's wit and eye-opening remarks with great expertise and he says something that is meant to raise eyebrows or shock the reader that is exactly what it does. The book was successful at keeping me on the edge of my seat and the pages turning. I was constantly being carried away in the book; I simply couldn't put it down.
The main characters, Nora and Patch felt real to me, especially in their attitudes. Nora is a typical teenager. Patch is a transfer student who has a sarcastically witty and cunning personality. One day the biology class the teacher tries shaking things up, by switching around lab partners, leaving Patch and Nora paired for the rest of the term. Nora is not at all thrilled to be paired with Patch. She doesn't notice that he's handsome, at first, what she does notice he does not want to answer question and he's proving to be one of the most difficult and exciting lab partners ever. I loved how BF never differs/sways away from Patch's character. He is always tough, always doubtful and as the reader never truly knows if he is a good guy or a threat until the very end. In fact, that Nora always doubts Patch and doesn't waver easily, no matter how hot he is, makes what happens between the two characters completely unexpected.
Hush, Hush is a mystery full of suspense with outstanding twists along the way. One that I would recommend to children from ages 9 to 99. Enjoy!! It will not disappoint!